With the weather we've been having lately I've been feeling quite motivated, and so I've put myself and Spider into "Spring Training". Show season will be upon us soon and, while I don't really have a plan for that, I do need to get working on some things so that we don't look like complete yokels when I do finally get my act together and show. So, with that in mind I've stepped up the intensity of our rides.
I've also done some contemplation: What do we need to accomplish our goals? Well, I want to get through 3rd level this year. Which means I really need to be schooling 4th level at home. But what does that mean? Honestly, I have no idea.....
Spider and I are really sailing into uncharted waters here, the type that you see on old maps with the label "Here there be dragons". Dragons indeed. My dragons are named "Collection" and "Lateral Work".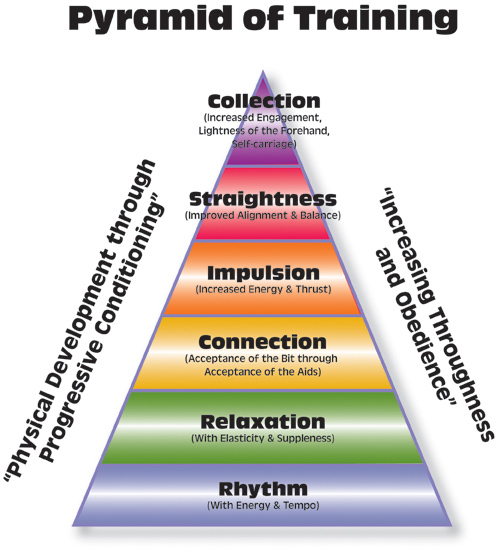 Image courtesy of USDF
Now, Spider can do the lateral work, and he can be collected. But, we seem to really be having a problem doing those things at the same time. It seems that when I ask for more collection, I lose my elasticity and suppleness. Which is a bit of a problem, as you can see from that training scale up there. The training scale builds on itself, you
need
suppleness in order to gain true collection. You need suppleness to do pretty much everything, actually. I could spend an entire paragraph (maybe two) talking about the problem and why we're having it, but that would be boring. So, here's what I've been doing to fix it:
Suppleness Exercise 1: 10 meter figure eights, at trot, in shoulder-in.
I mean an exaggerated shoulder-in! Four tracks! I hate this exercise, because it's hard. But it does wonders for Spider's suppleness and for my aids. It forces me to very conscious of my outside aids to keep Spider from falling out with his outside shoulder, and helps him to shift his weight back onto his haunches and release his shoulders.
Suppleness Exercise 2: Changes of canter lead on a circle.
This is a fun one! Spider and I both enjoy it quite a bit. I take up a circle of any size (a bigger circle is better when you're just starting out) and ask for the "correct" canter lead, then I bring the horse back to trot and ask for counter canter. Rinse and repeat. I started this exercise on a large circle (bigger than 20 meters) and with as many strides at each gait as I needed to get good transitions. As we've worked on it, Spider and I have gotten it down to a 20 meter circle and only a few strides of each gait! The lead changes really do wonders for his suppleness. We're now working towards being able to do canter-walk transitions instead of canter-trot. I've found this exercise to be really good for getting Spider supple and energized. His energy and enthusiasm are actually the reasons we haven't been been able to do it with canter-walk transitions yet! We'll get there. He just needs to build a little more strength to handle all that energy and enthusiasm.
These exercises are just the beginning, I'm sure. As we do more, we'll find new problems and build new exercises to get past our problems. That's the fun in training a horse, I think: No matter what you're doing, it is only the beginning.